I was born in Thunder Bay, Ontario Canada on June 18, 1973
I now live in Louisville Kentucky. Imoved to Louisville in order to train for a career in professional wrestling at the WWE developmental territory. I moved here temporarily from Los Angeles CA where I had lived for the past several years.
I am a fitness model, professional bodybuilder and professional wrestler.
I played a lot of sports as a kid. I was a real tomboy! I loved football, did track, played tennis in my teens (won the Mid Canada Girls Jr Title), won several powerlifting awards (had a bench of 250 lbs), and played rugby in university. Then I found weightlifting and it was ALL over after that! And now I am enjoying professional wrestling and hope to make that my next career. The drama and athletics is absolutely astounding in this profession.
When I was 11 years old, I started to get a real interest in playing tennis. I wanted to be a power player, so I started to lift weights in order to strengthen my game. It worked!
The idea of competing in bodybuilding competitions was not really in my head from the start. I did enjoy the look that I saw the women bodybuilders exhibit in the mags, but I was kind of shy and didn't know if I had the confidence to get up on stage. As well I wasn't totally sure my body would be shaped well enough. But as I began to develop and got a lot of attention especially for my bicep development, I was encouraged by people at my gym to compete. But I did start building up my confidence by doing powerlifting competitions. And even doing that, I wouldn't be able to sleep well for the week before the show! After competing in several powerlifting competitions and being very successful at it, I eventually got used to putting my pride on the line in front of large groups of people. I also decided I needed to challenge myself again. So I got up my nerve to compete on the bodybuilding stage. I realized that was what I wanted to do. I wanted to be Ms Olympia.
My first competition was the Physique Challenge in Windsor Ontario. I won the lightweight and overall titles, and it was the most exhilirating feeling! My brother David lives in the Windsor area so I decided to do the show and visit him at the same time. He did come to the show and it was nice of him to show his support.
Doing the Olympia and placing in the top 10 was the pinnacle of my career, but winning the Jan Tana (my pro debut in 1996) was the most exciting due to the fact I did win the show, and there was a great celebration that went along with it. The Olympia is the Superbowl of women's bodybuilding, but I wished I had placed better. The Jan Tana is a major women's show and it was great to be the Champion! Especially being my pro debut!
1994 Ms Canada
1996 Jan Tana Champion
1996 9th Place, Ms Olympia
1997 5th runner up, Ms International
1997 11th Place, Ms Olympia (finished out of top 10 by just 3 points!)
1999 13th Place Ms International
My typical day really depends on which day of the week we are talking about! I train for wrestling Mon, Tues and Thurs morning, and have all days commitments at shows Wednesday, and often Saturdays. Sometimes Friday and Sunday I am busy with wrestling as well. I now lift weights 4 times a week, 2 days on/1 day off, upper body/lower body split.
My typical day for training now is getting up at 6:30 am, eat breakfast, then do 30 min of riding stationary bike to warm up, then do another half hour of stretching. This prepares me for the rigors of wrestling. I take my shower of course, and get ready for training. Then I train for about 3-5 hours. Go home, shower, eat, answer emails or mail, send out photo or video orders and handle bills and phone calls. I might take a little nap, then eat again and go to the gym. I then will watch wrestling tapes or TV. I love E! TV now and sure miss LA now that I don't live there anymore! I try to get to bed by 11 pm though I often dont fall asleep till 12:30 am.
I have benched 250 lbs, squatted 330, and deadlifted 500 lbs
My bis have been 15 1/2 inches, calves 16 inches, thighs 24 inches
my best bodypart is a tie between my butt and my biceps!
I enjoy doing cable kickbacks or the butt blaster machine. I dont particularly enjoy doing abs lately though! I am a bit heavier than I used to be when just bodybuilding. I am about 3-5 lbs heavier now that I am wrestling. It is a pretty rough and tumble sport, and it is much easier on the body to do it with a little extra cushioning! When I first started wrestling I was in excellent bodybuilding shape, and I could feel my insides shift whenever I hit the mat! I am a bit heavier now but not all that much. I can easily get back to photo shape within a few days of cleaning up my diet and doing a bit more cardio.
I don't really get all that much time to check out the bodybuilding scene as of late, but I did get out to Columbus to see the Ms International contest. I thought the judging was pretty darn good! Iris Kyle did deserve to be the overall champion in my opinion, and certainly at the Olympia last year Lenda Murray was in the most amazing shape and clearly deserved to win that as well. I think the judging has been pretty good as of late.
When I am not in the gym or in the wrestling ring, I watch a lot of TV and videos, and try to get to the movies for a fun night out. I am also getting back into tennis. I played a bit when I was visiting a friend of mine out in NJ who used to be a top ranked player, and it felt soooo good to hit that ball again. Tennis is a very satisfying sport in that you can really apply strategy and score points. Bodybuilding is a great thrill as well, but it is a subjective sport, so it often is controversial. In tennis, a ball is either in or out!
As a kid I watched GLOW on TV and really enjoyed women's wrestling. I guess I have always been kind of an in-your[face kinda girl, or at least I sure loved doing things that women were not usually expected to do. I was a little rebel! I often watched pro wrestling on TV, and especially Hulk Hogan and Macho Man and Elizabeth with the WWF (now WWE) in the 80s. I continued to watch off and on for the next several years. I actually think watching Hogan and Macho Man with their incredible muscular development, helped lead me into bodybuilding! So by 1998 (WWF was peaking in popularity at that time with women wrestlers Sable and Chyna) I was back into watching wrestling heavy, and felt that I was about ready to make a career change.
It took awhile for me to make the change however. I attended Killer Kowalski's school in Boston for awhile in 1992, then moved back to California to continue my training and then finally was invited to train in Louisville KY at OVW (see ovwrestling.com), World Wrestling Entertainment's developmental school. It is brutal that is for sure, but so exhiliarating and exciting!
As for bodybuilding, I definitely plan to get back into it one day! I have never retired and don't plan to! I am enjoying expanding my horizons and feel bodybuilding and wrestling are harmonious businesses. One definitely feeds the other, and I love what I am doing!
My future plans for 2004/2005 are to continue to be a hot, hardbody chick and to keep kicking butt in both the wrestling ring and the gym!
Remember when I was off in LA for 2 weeks last April and I couldn't really give out any details on what I was doing out there? Well I was working on this cool new sports/entertainment game show called "EXTREME DODGE BALL". The show takes a humorous look at the controversial grade school game that terrorized the not-so-athletic and really seemed to emphasize the bully/victim dynamics at school. The show is hiliarous! There are 8 teams and each one represents the grown-up version of what these kids used to be at grade school when they were first subjected to the terrors of the red rubber ball! Quiet kids became mimes (Silent but Deadly), fat kids became sumo wrestlers (Sumo Storm), math nerds became accountants (Certifed Public Assassins), hallway moniters became rent-a-cops (Armed Response), short kids became jockeys (Stallion Battalion)..and so on. I am part of the Barbell Mafia team, and we not only looked great, we kicked butt! The last 2 teams were Ink Inc. (tattooes and piercings) and the Bikini Team (4 girls and one happy guy!) I had a blast and hope they turn this into a longer running show. I would love to have a second career playing professional dodge ball. There is just something oh-so satisfying about whipping that red rubber ball at someone! LOL!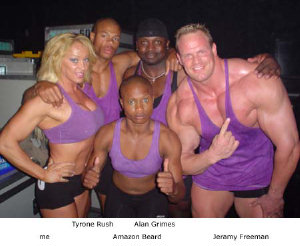 For more info, go to www.gsn.com